At the beginning of every year my family gets together and looks at the highlights, joys and sorrows of the departing year.  We try to capture some of the most meaningful and joyful events, fishing through memories and finding special moments that shine and stand out.
Several years ago, we added something new.  We decided to try identifying the highlights of the coming year before they happen.  In other words, we asked ourselves the question, "If this were the end of the new year and we were reflecting back on our lives, what do we hope to see as highlights for 2020?"
It's an interesting exercise that allowed us to brainstorm and dream about how we would like the year to unfold.  What would make this year special?  What would make it joyful?  What might happen that would stimulate a sense of gratitude and appreciation for life?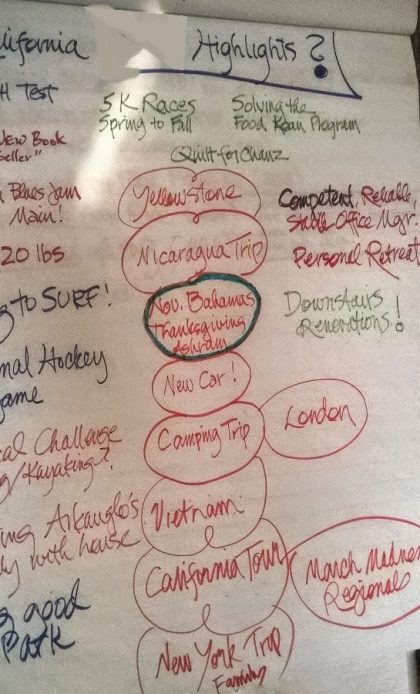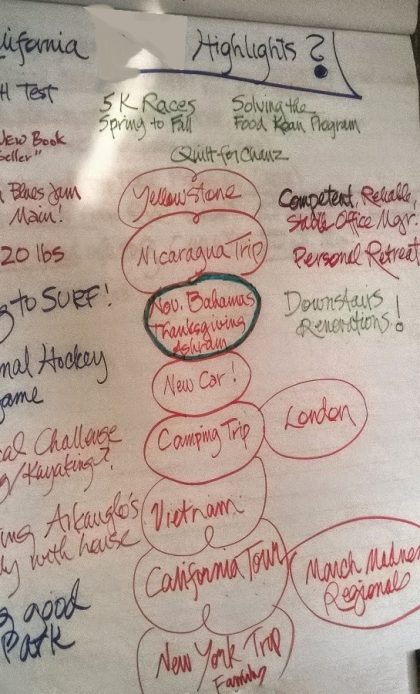 We captured these ideas and dreams on a large poster.  My oldest daughter is hoping to spend a block of time this summer on the California coast learning to surf.  She also wants to go to London (where did that come from?).  Travel is an important part of our speculation.  We identified possible trips to Yellowstone Nat'l Park, Nicaragua, and the Bahamas.  There's mention of a camping trips and visits to see aging grandparents. But it's not all travel.  My wife hopes to run some 5K races this spring, and I'm hoping to play in a "blues jam" in Memphis, TN.
Sharing our hopes and dreams helps focus the energy of our family and gives us a vision for how we spend our time and money
It was fun doing this exercise, but it also provides an opportunity to see what is most important to other family members.  How can I support my wife's  culinary ambitions?  How can I help make sure that my daughter's California trip is successful?
It also helps us, as parents, to consider what is and isn't possible.  Is it possible to go to London?  Maybe not.  The trips to see grandparents really are a priority.  But camping is certainly an option, so maybe we can set aside a week this summer for camping and kayaking in the Adirondacks.  What about a new car?  Well, that may be a necessity, since our 12 year old Subaru is showing its age and losing its reliability.  So that's a discussion we need to have, particularly in light of added teenage drivers in the family.
The chart is a visual reminder for our family of what we hope will happen this year.  But we all know that life is a mystery.  There will be challenges and opportunities that will arise unexpectedly.  The ability to adapt and cope with unpredictable events and difficulties is the best measure of our spiritual strength and psychological wisdom.
The Buddhist teacher, Pema Chodron, talks about the concept of groundlessness.  Ultimately, we have to accept the premise that there is no security – that life is characterized by uncertainty.  There's really nothing we can hold on to.  We can go to great lengths to plan a trip and then something happens and it falls through at the last minute.  We can get in great shape for a bike trip and the night before we trip on the stairs and sprain our knee.  In January, 2014, I went to Chicago to get my 87 year old father and bring him back to Vermont to live.  The day I arrived he was admitted to the hospital.  He died two weeks later.  So does it really make sense to plan?
I believe it does make sense to plan, and even dream.  It's helpful to know what's truly important and it's important to take action and do what you can in any situation.  Spiritual wisdom isn't the same as passivity.  There's nothing wrong with having a goal of writing a book or a vision of building a cabin in the woods for meditation.  Sharing our hopes and dreams helps focus the energy of our family and gives us a vision for how we spend our time and money.
And when things don't go as planned, we can accept, adapt and change.  This is what I want my children to learn.  In fact, this is what I need to learn, over and over again – year after year.  In the coming year, the opportunity to cope with uncertainty is probably more likely than a trip to London – even though it's not on the chart.
______
Starts January 11, 2020: Living on Purpose – Getting on Track for the New Year.  An online course taught by Gregg Krech.  http://www.todoinstitute.org/ldlp_purpose.html
Gregg Krech is the author of several books including, The Art of Taking Action: Lessons from Japanese Psychology (2014) (an Amazon Best Seller) and A Natural Approach to Mental Wellnes (2012) . He has been teaching Japanese Psychology through retreats, conferences and online courses for thirty years.
Tags:
family
new year
Purpose