Our family has had a New Year's tradition of looking together at the highlights, joys and sorrows of the departing year.  We try to capture some of the most meaningful and joyful events, fishing through memories and finding special moments that shine and stand out.
Several years ago, we added something new.  We decided to try identifying the highlights of the coming year before they happen.  So this year we will ask ourselves the question, "If this were the end of the new year and we were reflecting back on our lives, what do we hope to see as highlights for 2022?"
It's an interesting exercise that allowed us to brainstorm and dream about how we would like the year to unfold.  What would make this year special?  What would make it joyful?  What might happen that would stimulate a sense of gratitude and appreciation for life?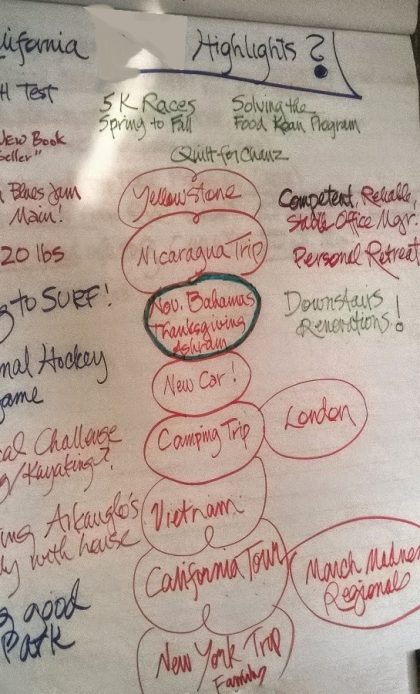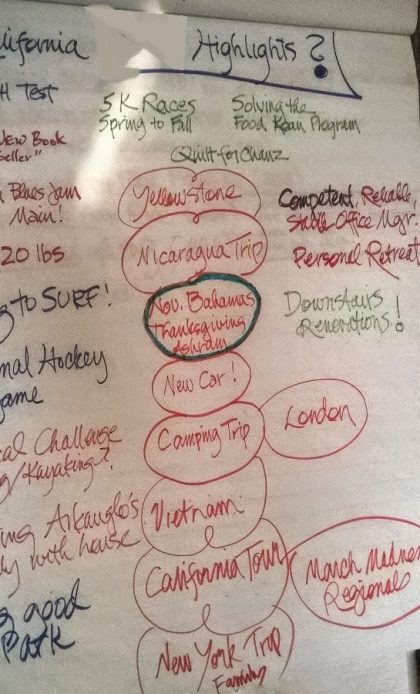 This photo captures our highlights from a few years ago.  This year, of course, we'll need to factor in the pandemic.  We intend to dream optimistically while recognizing that some of our dreams for the coming year may not be possible.
Nature adventures, including camping, may be more realistic travel options than cities and hotels.  We'll see how things go.
One of the best rewards for doing this exercise is that we have a chance to share our hopes and dreams with each other, even before the year gets started!  We can do a better job of supporting each other's dreams if we know what they are.
As for this particular year ahead, we're all in this pandemic period together.  Chances are we'll all need to adapt our plans, in one way or another, as the year unfolds.  We are getting lots of practice at being adaptive and flexible, aren't we?
None of us want to be inconvenienced or disappointed, but if that's what arises, then let's do our best to be skillful, tap into our wisdom, to cheer one another on.
Let's find our way through the year together.
Happy New Year.
Starts January 8, 2022: Living on Purpose – Getting on Track for the New Year.  An online course taught by Gregg Krech.  http://www.todoinstitute.org/ldlp_purpose.html
Gregg Krech is the author of several books including, The Art of Taking Action: Lessons from Japanese Psychology (2014) (an Amazon Best Seller) and A Natural Approach to Mental Wellnes (2012) . He has been teaching Japanese Psychology through retreats, conferences and online courses for thirty years.
Tags:
family
new year
Purpose