My friend Jiun taught me about favorites.  She was the cook (tenzo) at a Zen Center in the Catskill Mountains.  She always used the word "favorite" as a noun – "this is my favorite" or "you are my favorite."  After a while I realized that her favorites would change, sometimes in a matter of moments.  When I hadn't seen her for a while, she would give me a big hug, look me in the eye, and say, "you are my favorite."  Then she would give my wife a hug and tell her, "you are my favorite."  Of course, my initial reaction was, "I thought I was your favorite."  Then I realized that her favorite was always based on what was in her presence at any given moment.  It's not that she didn't have a favorite food, book or movie.  It was just that whatever was around her in the present moment became her favorite.
Having said that, here is a list of my favorites for 2016.  (Caution: by the time you read this, one or more may have changed.)
Favorite Movie:  The Fundamentals of Caring
Favorite Book: The Authentic Life by Ezra Bayda
Favorite Place I Visited:  Majorca, Spain
Favorite Podcast: Revisionist History by Malcolm Gladwell
Favorite Newly Discovered Song: Gia ena Tango by Haris Alexiou (from the soundtrack of Before Midnight)
Favorite Baseball Game: Game 7 of the World Series (First World Series Championship for the Chicago Cubs in 108 years)
Favorite Place to Watch the Sunset: Charlotte Beach, Vermont (on the shore of Lake Champlain)
Favorite Wild Creature: BuddhaHead the Squirrel (see photo below)
Favorite Comment After a Naikan Reflection Workshop: "I'm going to buy your book for my husband – he really needs this."
Favorite Object That Saved My Life: My Bike Helmet
Favorite Person Living in Poland: Jiun (really, she is my favorite)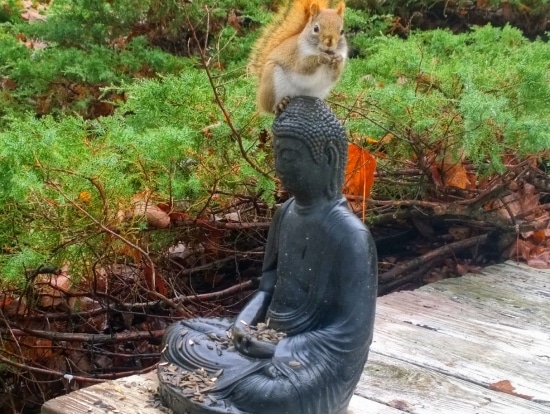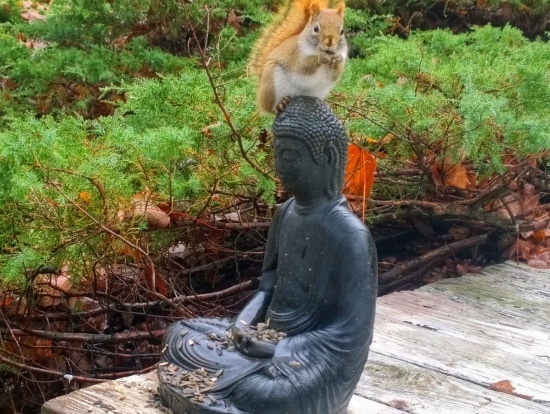 Do you have a "favorite" from 2016?  Share it in the comments section.  Happy New Year.
Top Photo Credit: By Butterfly austral – Serge Ouachée – Own work, CC BY-SA 3.0, https://commons.wikimedia.org/w/index.php?curid=8941312
Tags:
Attention
gratitude
new year