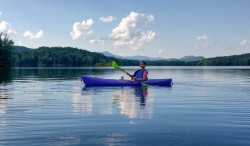 "Being out of reach isn't a problem — it's a blessing. It's a salve that heals the wounds of a life with constant distraction." — Gregg Krech My oldest daughter, Chani, is leaving for college at the end of this month. So we decided to set aside a day to do something enjoyable together. For our father/daughter last-outing- before-college day, we strapped two kayaks on to the top of our red Toyota RAV4 and…
There will be more!
Nirvana and its huge array of tools are waiting for your carefully crafted content. It will embrace and enhance it while also giving it room to breathe and grow. Can you imagine a better home for your deepest thoughts, your greatest ideas, your best travel photos and anything else you want to share with the world? With Nirvana, the world will never know what hit it ;)

So bring out your diamond in the rough and let Nirvana find its luster.