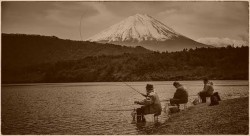 The Best Unproductive Day Possible Just as I was recovering from a bike accident, we discovered a tumor in my dog Barley's mouth which was diagnosed as malignant.  Within a week he was at the animal hospital for major surgery to remove the tumor. I started sleeping in the living room after Barley got back from surgery so I could keep an eye on him.  But I was only getting about 4 hours of sleep…
There will be more!
Nirvana and its huge array of tools are waiting for your carefully crafted content. It will embrace and enhance it while also giving it room to breathe and grow. Can you imagine a better home for your deepest thoughts, your greatest ideas, your best travel photos and anything else you want to share with the world? With Nirvana, the world will never know what hit it ;)

So bring out your diamond in the rough and let Nirvana find its luster.