TTD has been the ToDo Institute's flagship publication for 25 years! Our natural approach to mental wellness is informed by Japanese Psychology and helps to bridge the gap between the spiritual, the psychological and the practical.
This unique 16-page (advertisement-free) quarterly publication only costs $15/year ($18 Canada and Mexico; $22 international) and provides a rich and empowering approach to living with gratitude, purpose, responsibility and compassion. (Your subscription provides both digital and print copies — unless you request otherwise).
"I look forward to Thirty Thousand Days every time it comes. I love it. The articles are so rich and deep and life-changing! Keep them coming FOREVER. Thank you."
Sharon Rosman
To begin receiving the quarterly, you can:
— take out a subscription to Thirty Thousand Days by clicking here.
— become a ToDo Institute member for $30 (which includes a subscription). Learn more about membership benefits by clicking here.
Use the above links to order, or call 802-453-4440 to subscribe by phone, or contact us by email.
Putting an End to Body Language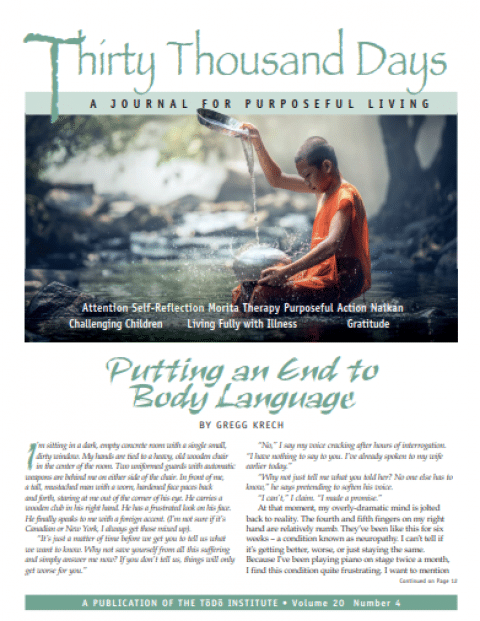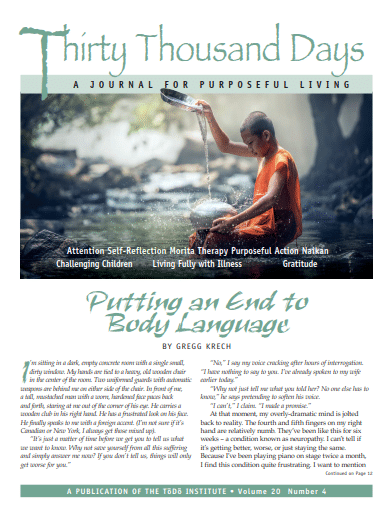 Gregg Krech
Hitting the First Rapid 
Darlene Cohen
American Bear 
Margaret McKenzie
At Our Best
Linda Anderson Krech
Etegami
Patricia Ryan Madson
Conversational Narcissism 
Brett & Kate McKay
There Are Moments
John Tarrant
How the Cycle Goes
Michael A. Singer
A Dying Art
Linda Anderson Krech
Before Leaving for Work 
Kevin Ashton
What our Members Are Saying:
"Thirty Thousand Days continues to be one of my most important reads. I am indebted to you both for the energy and expertise you are devoting to the life changing material."—Victoria Freeman, Jacksonville, FL
"The work of the ToDo Institute is truly amazing and inspiring. Your article on Effort and Outcomes is really very nice. Thank you very much!"—Otavio Lilla, Brazil
"What a perfectly timed issue of Thirty Thousand Days – it felt custom-geared to us. I was thrilled with the cover story, The Eye of the Hurricane, and the rear-end of the magazine with Esther de Waal (Attentiveness) sandwiched some real pearls inside. Thank you all for putting out such a helpful publication. We both really enjoy it and it helps put reminders at our fingertips." —Jane Skiba, New Paltz, NY
"Thirty Thousand Days arrived and after spending some time reading the articles, I must say that you both have outdone yourselves! The journal looks great, the articles are terrific and the paper feels good to handle. Congratulations!" —Dan Lucas, Arlington, VA
Thirty Thousand Days: How Are You Using Them?
Vol. 20, No. 2
Table of Contents: 
In the Arena
Gregg Krech
Resilience: Bouncing Back from Adversity
Linda Anderson Krech
Radical Acceptance
Gregg Krech
Billboard movie review . . . . . . . . . . . . . . . . . . . . . . . . . . . . . . 5
Gregg Krech
Sometimes a Crisis Brings Out the Best in Us . . .  . . . . . 6
Sebastian Junger
Problems Are Really Facts of Life . . . . . . . . . . . . . . . . . . . . 7
Susan Page
Looks Like I'm Walking . . . . . . . . . . . . . . . . . . . . . . . . . . . . . 8
Trudy Boyle
Thanking Mom . . . . . . . . . . . . . . . . . . . . . . . . . . . . . . . . . . . . . 11
Peter Smithfield
Exercise & Depression . . . . . . . . . . . . . . . . .. . . . . . . . . . . . . 14
The Guts to Sleep Well . . . . . . . . . . . . . . . .  . . . . . . . . . . . . . 14
Not Knowing Can Be Liberating . . . . . .  . . . . . . . . . . . . . . 14
John Tarrant
Thich Nhat Hanh . . . . . . . . . . . . . . . . . . . . . . . . . . . . back cover
Vol. 20, No. 1
Table of Contents:
The Unreality of the Future


Gregg Krech

From the Editor


Sensei Morris Sekiyo Sullivan

Ciao! 


Linda Anderson Krech

Learning For Life   


Trudy Boyle

We Need Difficult People: Naikan on My Father 


Morris Sullivan

Managing Disappointment 


Gregg Krech

Emergency Gratitude  


Viv Monahan

Happiness Is Not The Goal   


Ezra Bayda

North American Naikan Council 

The Courage and Conviction of Sophie Schoil


Linda Anderson Krech
Vol. 19, No. 4
Table of Contents:
What Can we Learn about Gratitude from a Colonoscopy 
Gregg Krech

Undaunted 


Linda Anderson Krech

Fear, Anxiety, and the State of the World 
Brother David Steindl-Rast
Here's My Card 
I'm Sorry by Gregg Krech

Meaning and Happiness


Emily Esfahani Smith
Cheerful Perseverance is the Key to Success 
Ezra Bayda
Mastery 
Stephen Cope

Reflecting on a Semester at Sea
Michele Faris

When Kurt Vonnegut Tells His Wife He's Going Out to Buy an Envelope



Vol. 19, No. 3
Table of Contents:
The Essence of Life
Gregg Krech

Maid for Clutter


Linda Anderson Krech

Not Happening Now!
Ezra Bayda
Yutori
Naomi Shihab Nye

The Shadow of Entitlement


Gregg Krech
The Blue Zones 
Dan Buettner
Living Passionately
Isabel Allende

Pity to Waste a Good Crisis 
John Tarrant

Falling Through 

 
Mark Nepo

Hopi Prophesy



Happy in Tension 
Anthony de Mello
Vol. 19, No. 2
Table of Contents:
Waiting to be Rescued by a Knight in Shining Armor
Gregg Krech

Letting Go of Today 


Linda Anderson Krech

Flying in the Face of Feelings
Aimee Bowe
I Learned So Much from Going to Practice 
Larry Dettweiler

We're All Pros Already


Steven Pressfield
We Begin Again 
Gregg Krech
Crossing Over 
Gregg Krech

If You Could Have a Do-over 

The Move


Victoria S. Freeman

Inner Purpose and Outer Purpose 


Ekhart Tolle
Vol. 19, No. 1
Table of Contents:
The End of Chess 
Gregg Krech

Naikan — Finding Freedom in Prison


Carol O'Dowd

Self-Talk and Morita Therapy
Gregg Krech
Gotta Take Life as it Comes 
Fr. Anthony De Mello

I Always Had Enough


Sallie Jiko Tisdale
Juggling Likes and Dislikes 
Eknath Easwaren
The Patience of Ordinary Things 
Pat Schneider

What's in a Number? 
Linda Anderson Krech, India Taylor and Anna Quindlen

Willpower


Linda Anderson Krech

Is Fatigue an Emotion?


Kelly McGonigal
Make Every Encounter Your Last
Gregg Krech
Vol. 18, No. 4
Table of Contents:
You Are Not Drowning   


Scott Berkun

Curiosity to the Rescue  


Linda Anderson Krech

Run Away  


David Whyte

The Pizza Party Team   


Kiki Latimer

Naikan with Prisoners 


Yoshinori Sato

Movie Review: CHEF 


Gregg Krech

Unbox Yourself   


Gregg Krech

His Weirdness   


Brian Doyle

Connections 

Don't Figure Others Out


Norman Fischer
Vol. 18, No. 3
Table of Contents:
Taking Action in the Midst of Sadness
Gregg Krech

The Whisperings of Self-Pity


Linda Anderson Krech

Out of Balance
Elizabeth Gilbert
A Change of Focus
Dzigar Kongtrul

Moving Time


Ying Studebaker
Gratitude, Grace and a Month of Self-Reflection
Gregg Krech
Aging with Passion
Isabel Allende

A Family Tune-up
Linda Anderson Krech

Naikan in Nepal


Sabine Kaspari

Connections

Judging Others
Charlotte Joko Beck