In our recent issue of Thirty Thousand Days: A Journal for Purposeful Living, we have an article on an innovative approach to mental health developed in Zimbabwe which has expanded globally to include the U.S. and Canada.  In that article*, we reference the term Kufungisisa.
Kufungisisa is a term used in Zimbabwe to denote both the cause and symptoms of common mental health problems, such as anxiety and depression.   That term translates into "thinking too much".
I thought the association of "thinking too much" with mental health problems was, itself innovative.  As someone who writes about, and teaches courses on, The Art of Taking Action, thinking too much is often a major obstacle to people moving forward in their lives.  One of the maxims in my newest book, Tunneling for Sunlight is:
"You can't figure out life in your head."
I find that it is often highly intelligent people who attempt to figure out life in their head.  And the lack of intellectual resolution often results in a lack of action.  So the phrase "thinking too much" rings true from my own experience.
Have you ever found yourself overthinking a situation?  Have you ever found yourself ruminating about a problem?  Have you ever found yourself spending a tremendous amount of time planning and analyzing and devoting very little energy actually taking action?
Then maybe you are suffering from Kufungisisa?
Is it possible to stop "thinking too much" or, at least, to minimize it?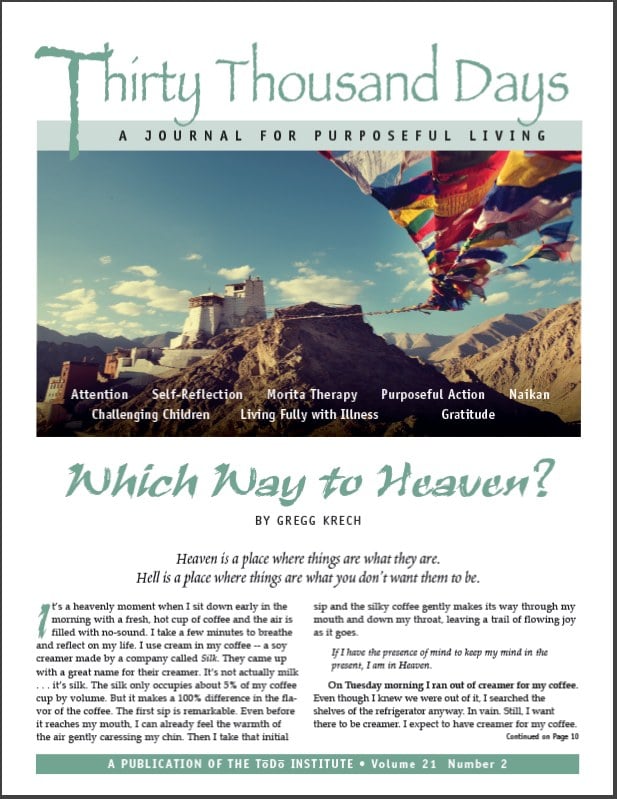 Yes, it is.  Absolutely. Think about it.
But not too much.
To be continued . . .
Gregg Krech is the author of five books on Japanese Psychology and will be teaching the upcoming course Working with Your Attention, which begins on April 11, 2022. For more information, go HERE.
The Grandmothers of Zimbabwe by Linda Anderson Krech & Trudy Boyle is available to ToDo Institute Members digitally. The print issue will be mailed out on April 9, 2019. Members who want to access the issue digitally should check their email for the link, or, contact the ToDo Institue — ben@todoinstitute.org
Tags:
anxiety
mental health
Mindfulness
Morita Therapy