"Being out of reach isn't a problem — it's a blessing. It's a salve that heals the wounds of a life with constant distraction."
— Gregg Krech
My oldest daughter, Chani, is leaving for college at the end of this month. So we decided to set aside a day to do something enjoyable together. For our father/daughter last-outing- before-college day, we strapped two kayaks on to the top of our red Toyota RAV4 and drove several hours toward the border of Canada to a magical place called the Green Mountain Reservoir.
The Green Mountain Reservoir is a Vermont State Park and perhaps the most beautiful place in the state of Vermont (which is a lofty compliment). It is a large, protected body of water containing an assortment of islands, streams, outlets, inlets, campsites, picnic areas and marshes. The shores are dense with maples, northern pine and chest-high bushes. And perhaps the most magical characteristic is the presence of Loons.
The Loons are a bit larger than a duck and have elegant black heads with stunning red eyes. We saw five Loons during our time on the water.  But even if we didn't see them, we would certainly have heard them. Their call is haunting and echoes across great distances in the wilderness. And when they answer one another, they create a symphony in which virtually any camper or kayaker just stops what they're doing to listen. As we drove through Morrisville, the last point of civilization before driving into wilderness, we made a quick call to my wife. "We'll call you after dinner," we said. "We'll be out of reach while we're kayaking." By "out of reach" we meant, there was no cell phone service there.
Few of us experience this state of being "out of reach" anymore. If we do, we see it as a problem – a predicament. We immediately think, "where can I go to get a signal?" "Where is the closest Wifi connection? But I'd like to suggest that being out of reach isn't a problem – it's a blessing. It's a salve that heals the wounds of a life with constant distraction.
On any given day we are distracted by email, phone calls, the Internet, TV, kids, the sounds of traffic, colleagues at work, kitchen snacks, talk radio, music and more. During my day at the reservoir I was in a kayak with very little to distract me. My food and snacks were in a waterproof bag behind my seat, which I couldn't access without getting out of my kayak. My biggest distraction was on the floor of the kayak next to my right hip – a water bottle. That's right . . . my biggest distraction was sipping water.
When we're at home or work, it almost feels like we have to fight for the ability to be present to our lives. But when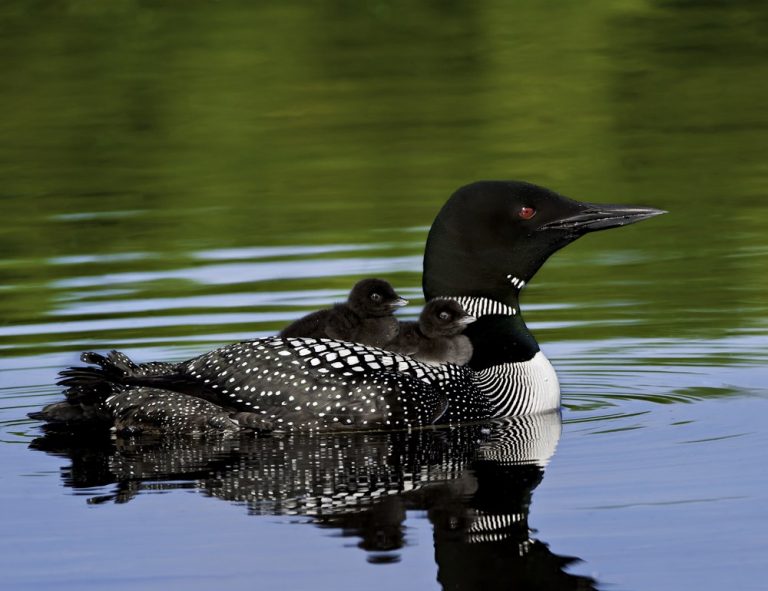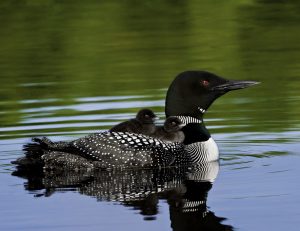 we're in nature and out of reach, we can simply relax into the moment with such ease that we don't even notice it. The glassiness of the water, a sudden breeze against your cheek, the sunlight reflecting on my daughter's purple kayak, and, of course, the sound of the magical Loons. Our attention gravitates to what is around us in this very moment. The entire world is right in front of us.
When I was in my 20's (before the era of cell phones) I use to take one solo wilderness trip every year for 7-10 days. I planned the trip six months in advance and traveled to places like the Canadian Rockies, the Wind River Wilderness in Wyoming, the Milford Track in New Zealand, and the mountains of the Ise peninsula of Japan. My goal was to get so deep into Wilderness that I wouldn't see another person for days, so distant from civilization that I would forget how to speak. I treasure the memories of those trips. I learned what it was like to be out of reach of anything but the trees and mountains that surrounded me.
We exchange the present moment of real life for a digital version of someone else's life.
Now we are tempted to take our distractions with us, no matter where we go. Cell phones often have more capability than a laptop. If we're waiting in line, what do we now do with our attention? Do we look around, notice the people nearby, notice the artwork on the walls, or the sounds of people chatting? No, instead we pull out our phones and check our email, texts, and social media accounts. We tune into the news as if the latest information about Donald Trump's news conference is going to be a highlight of our day. We exchange the present moment of real life for a digital version of someone else's life.
Just yesterday my wife and I went to a state park on the shore of Lake Champlain. It's about 20 minutes from our home and a favorite place for swimming. We knew we would only have an hour, but on a hot summer day that hour is worth more than a full day in front of a computer screen. My younger daughter was at home and my older daughter was out with friends. As we parked the car, I noticed my cell phone tucked away in a little cove in the dashboard. I paused for a moment. Should I grab it along with our towels and chairs? During that pause I realized that if I left my phone in the car, I would be out of reach. I smiled and left it behind.
I like being out of reach. I like noticing the breeze against my cheek and watching little children running and jumping off the dock into the lake. I like looking at the changing shapes of the clouds. And I like talking to my wife, even after 24 years of marriage. Thank goodness for all the "dead spots" in the world without cell phone coverage. I see them as temples – holy places where we can pray instead of surf. Sacred spots that invite us to be part of the real world. Respites that allow us to replace digital chatter with real life connection.
So the next time you find yourself without a cell phone signal – take a deep breath, look around, and enjoy a moment of being out of reach.
Tags:
Attention
Mental Wellness
Nature
Technology