When my daughters were younger, they played basketball. One afternoon, the week before Christmas, my wife and I sat for an hour on a hard, plastic bleacher seat in the high school gym and watched their game. The game was competitive, the referees were above average and there was an amazing moment where my younger daughter's shot ricocheted off the rim twice, bounced above the rim, and then came down right through the net. Swisssh! It was probably obvious to everyone in the gym that I was her father, because I gave her a standing ovation. My daughters had fun playing – my wife and I had fun watching.
Most people don't think of girls' basketball as a holiday activity, but for our family it was.
I prefer it to shopping at the mall by a ratio of infinity to one.  


Shopping, you see, is not something I enjoy. I enjoy decorating our Christmas tree, listening to music while being warmed by the fire in our wood stove, walking in the woods next to our home, watching some of the great classic holiday films with my family, and, of course, watching my daughters play basketball.
I've come to the realization that the holiday season is about the experience, not the gifts.
Before I became a dad, my wife and I read an article by environmentalist Bill McKibben called, "The $100 Christmas." The theme of the article was to de-commercialize the holidays by taking the emphasis off of buying lots of gifts and redirecting energy towards family, spending time with friends and rediscovering the meaning of the holidays. McKibben suggested spending no more than $100 on gifts – total! So we started making apple sauce and wreaths from wild grapevines. We spent more time walking on quiet, snowy roads and less time navigating crowded malls. I learned to play a few Christmas Carols on the piano and we sang them while being warmed by the fire in our wood stove. My wife baked cookies sweetened with Vermont maple syrup.
Once we became parents, Santa became part of the picture. I still played the piano and Linda still baked wonderful cookies. But there was the pressure to fill the space beneath the tree with lots of toys. It was as if the measure of a good holiday was the quantity of gifts available on Christmas morning. If you have small children, Christmas morning is filled with excitement. But it took me a few years to realize that what the gifts provided was the experience of opening gifts. For the kids, unwrapping each gift was like finding buried treasure. And for me, watching my children have fun  . . . was fun.
But the unwrapping experience of the holidays only lasted for a few hours. So our family had traded weeks of time doing something that wasn't very enjoyable (shopping) for a few hours of something that was enjoyable (opening the gifts). Of course, once you opened the gifts, you got to play with them. That's enjoyable, too. . . for a while. But when you factor in the credit card bills that arrive in early January and the clutter and the gifts that break rather quickly and the ones you don't really need . . . it makes you question whether this is really a formula for a healthy holiday celebration.
And that's when I realized that what we really want from the holidays is the experience. Gifts are certainly part of that experience, but they can become a much smaller part.
Think about what you could do if you didn't spend so much time (and money) shopping. One year we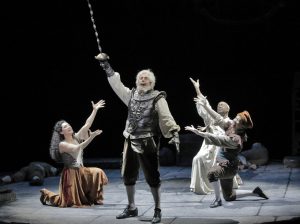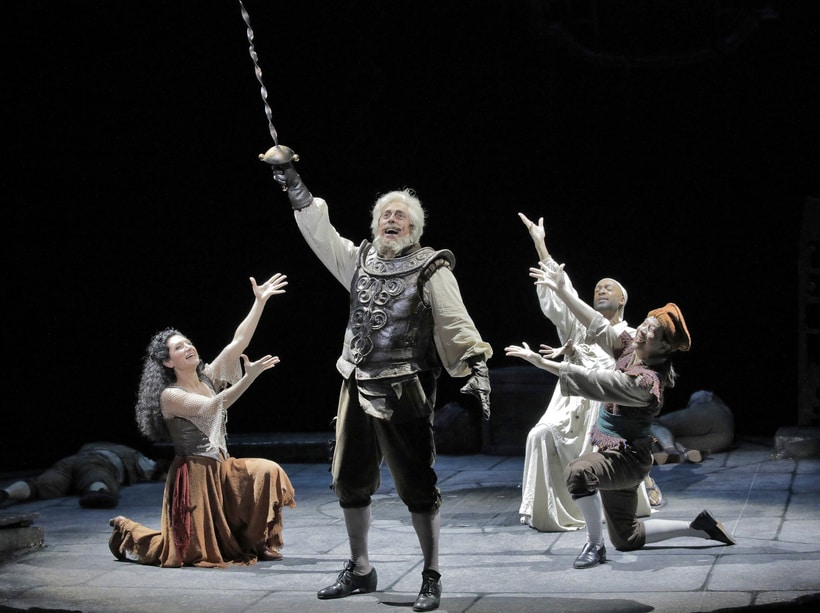 saw the play, Man of La Mancha, at Middlebury College. We don't usually think of Man of La Mancha as a holiday play — after all, it's set in a dungeon built by the Spanish Inquisition. But it's a wonderfully inspiring story of an eccentric man who has high ideals and is willing to risk everything to live according to those ideals. And it's a musical. We thoroughly enjoyed it.
Another year, we went to the holiday concert at our daughters' school, and then watched Miracle on 34th Street.
Sometimes we'd go bowling – a sport in which the less skill you have, the more fun you have.
We'll might spend three nights decorating our tree (one of our own Christmas rituals) and if we're lucky enough to get some snow ( a good bet, here in Vermont) we would do some sledding and maybe have a snowball fight with the kids (they played softball, too, so they are formidable opponents).
As far as gifts are concerned, our trend is to have less of them under the tree each year. (My wife continues to buck this trend). Some gifts are homemade. My wife and I are trying to shift some of the "getting" energy to "giving" energy – not an easy transition to make for children, but easier as our kids get older.
Now, 0ur daughters are both twenty-somethings.  Our older daughter, and her puppy, are temporarily living with us — a pandemic tradition for many families.  Our younger daughter, in New York, will open presents with us via Zoom.  Weird. At some point we'll probably gather in the living room and loan some money to third world entrepreneurs through Kiva. On Christmas day we'll make some charitable donations to worthy organizations, then we'll put out extra bird seed and apples for the critters who live in the woods around our house. For our family meals, we have a rule — no digital devices at the table.  No exceptions.
For commercial interests, the holiday season has become a month-long affair that's supposed to give people lots of shopping days. But a month is a big chunk of the year (one-twelfth, if my math is right). I don't really want to spend a month shopping for stuff . . . even online.  I'd prefer to celebrate the holidays each and every day. The celebration is the experience. And when I reflect back on the joy of previous years, I don't really remember the gifts. I remember the experience.
But this year, for many of us, the experience will be different.  Less personal contact and more video chats.  We can lament our disappointments, or make the best of our circumstances.  This is our first pandemic Christmas.  Make a good story out of it that you can share with folks a few years from now.    Do something creative this year.  Something different. The experience doesn't have to be the same to be worth remembering.
Gregg Krech is the author of five books on Japanese Psychology and will be conducting the online program, Living on Purpose, starting on January 8, 2021.
Tags:
gratitude
holidays
Mental Wellness
Relationships