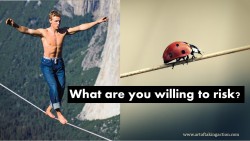 When callings, dreams, ideas and plans begin to unfold in our minds and hearts we feel the sting of their associated risks. The safe path tempts us with the promise of survival. For animals, survival is often the primary purpose. But as human beings, we yearn for more than survival. We want meaning. We want fulfillment. And that requires RISK. So as you move into the second half of this year, what are you willing…
There will be more!
Nirvana and its huge array of tools are waiting for your carefully crafted content. It will embrace and enhance it while also giving it room to breathe and grow. Can you imagine a better home for your deepest thoughts, your greatest ideas, your best travel photos and anything else you want to share with the world? With Nirvana, the world will never know what hit it ;)

So bring out your diamond in the rough and let Nirvana find its luster.