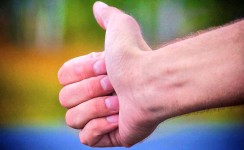 There's a story about a young man who is hitchhiking to San Diego. He is standing alongside an entrance ramp just outside of Seattle hoping to get a ride. A car pulls up and a well-dressed, middle-aged man rolls down the window. "Where are you headed?" says the driver. "I'm going to San Diego," says the hitchhiker. "Well, I can take you as far as Los Angeles," says the driver. With a look of disappointment…
There will be more!
Nirvana and its huge array of tools are waiting for your carefully crafted content. It will embrace and enhance it while also giving it room to breathe and grow. Can you imagine a better home for your deepest thoughts, your greatest ideas, your best travel photos and anything else you want to share with the world? With Nirvana, the world will never know what hit it ;)

So bring out your diamond in the rough and let Nirvana find its luster.